Communicating road signs
New in the world of road signs: they communicate with you …!
This development is possible thanks to the innovative material of the INNOV range: technical resin . Indeed, the technical resin allows the passage of signals, and does not generate interferences (no Faraday cage).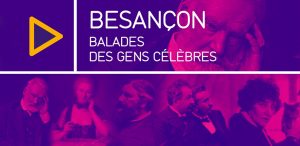 Featuring : the application "Balades des gens célèbres" that we developed and which is part of the Smart City concept and the city of the future. This application offers citizens the possibility to discover a city – here Besançon – in a playful way through a theme and a pre-defined walk.
This walk is guided by the Worldplas closed back road signs, decimated along the proposed route.
For any development project or to have more details, we are at your disposal, contact us.
This application is available for download: Android, Ios
In the press: 
– L'Est Republicain:
Article 1 par Paul-Henri PIOTROWSKY
Article 2 par Paul-Henri PIOTROWSKY
– France 3 :
19/20 Franche-Comté broadcast on Tuesday 08 November at 19:00 on France 3.
– Traces écrites:
Article par Monique Clémens
– BVV Besançon:
Article